Building a New Home?
A house that allows air to pass through walls, ceilings and floors is not only leaking air — it's leaking money in utility costs, month after month.
Used throughout a new structure, our Foamsulate series of spray foam insulation products create a tight thermal envelope around the entire home for reduced heating and cooling costs, improved air quality, noise reduction and stronger structural integrity. It's the most cost- effective way to protect indoor air.
Foamsulate costs only two to four percent more (excluding tax credits) upfront to build a home that uses up to 60% less energy than conventional construction. In fact, Foamsulate typically pays for itself in energy savings in just 5 years.
Where is Foamsulate Spray Foam Insulation Used in Your New Home?
Exterior walls
Vented attics
Unvented attic assemblies
Between floors
Uninsulated basement walls
Foundations
Crawlspaces
Plumbing penetrations
HVAC ducts
Where does my home Leak Money with traditional insulation?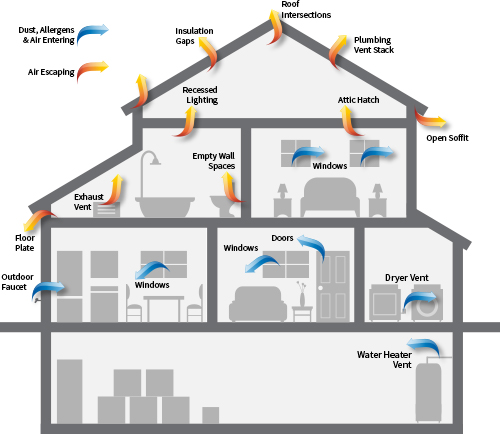 What does a spray foam insulation air envelope look like in your home?