SPF Roofing: The Commercial Building Owner's Solution in a Post-Harvey Market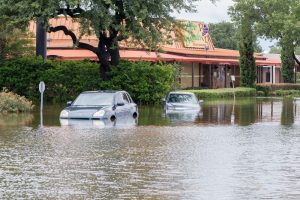 As business owners across the country continue to recover from the aftermath of hurricanes Harvey and Irma, SPF roofing continues to offer welcome relief to companies seeking to rebuild right.
As one of the most advanced insulation and building systems on the market today, SPF roofing is bringing hurricane-weary business owners proven protection from moisture, heat, and contaminants exacerbated by these historic storms.
"When you look at the devastation and the amount of water every structure had to endure, it's the SPF systems that did their jobs, remained intact, and allowed business owners to restart quicker than most," says Jack Moore, President/CEO of West Roofing Systems, Inc. "We can't control a hurricane, but with this building technology, we can control the degree of devastation."
The West Roofing Systems team traveled to Florida during the post-Irma aftermath. Their team worked with building owners to provide support, clean up damaged facilities and get new roofs installed before more damage was caused.
According to the latest figures from FEMA, while traditional claims for disaster relief tally around $3.5 billion annually, some officials have estimated Harvey and Irma claims will reach as much as $190 billion. Over 600,000 people remain displaced and affected businesses expect several months of revenue shortfalls as they work to restore their facilities.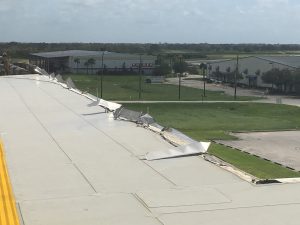 No doubt, the rebuilding journey will be long as the demand for coastal living continues to override the geographic risks. However, thanks to product innovations such as SPF roofing and insulation products, contractors are in a position to not only serve their commercial clients well into the future but also to help reduce — even eliminate — property and production losses should other disasters hit.
SPF is proving — rain or shine — to be one of the hardest-working commercial roofing systems around. In the coming weeks, we will be sharing stories from our associates who witnessed the efficiency and strength of Accella's SPF roofing systems during the storms.
Whether you are helping your commercial clients build, rebuild, or repair, here are a few key benefits to communicate about the power SPF roofing systems.
8 Benefits to Commercial SPF Roofing
It's simple and safe. SPF is a safe, environmentally-friendly material that is sprayed over a roof surface and expands into a foam that creates a solid, durable, protective layer across an existing roof. SPF insulation offers air infiltration control and a tight air seal that shields buildings from a variety of natural elements.
It's durable. SPF can be installed in a number of thicknesses giving the customer slope for drainage and the ability to meet thermal resistance standards their facility requires.
It's durable. After installed, SPF roofing can handle foot traffic without damage. If minor damage does occur, rarely does it puncture through the layer of foam. The Accella elastomeric topcoat can fix and even reverse some of these issues that often plague metal or asphalt roofs.
It's cost-effective. If you install the best roofing in right way, you won't be installing, repairing, or even reconstructing that roof for decades. SPF provides commercial buildings with better protection and at a lower life-cycle cost.
  It's cutting edge. Asphalt and metal roofing are both some of the oldest types of commercial roofing available while SPF roofing has been used for commercial roofing since the early 1960s. SPF roofing is always being improved, and companies are looking to SPF for the future of roofing.
It's energy efficient. SPF roof coatings offer options for seamless green and cool roof protection, which will save any large commercial or industrial facility on substantial energy costs.
It's good-looking. Every part of a business matters to its owner. Yes, even the way the roof looks. Granules can be easily applied to the top and can provide a cosmetically more attractive roof. One less worry as daily retail, production, manufacturing, or events are underway.
Every disaster brings its own variables that complicate recovery efforts. With buildings coming down, new construction going up, and substantial repairs underway, it's critical for commercial clients to have the best information moving forward. And, SPF roofing is a smart step toward protecting an investment and minimizing future risk.
For more information on Accella Roofing Solutions and how to best serve your commercial clients with this innovative product, contact us today.